Published Works & Press
Books Projects
Consider the Tongue (forthcoming)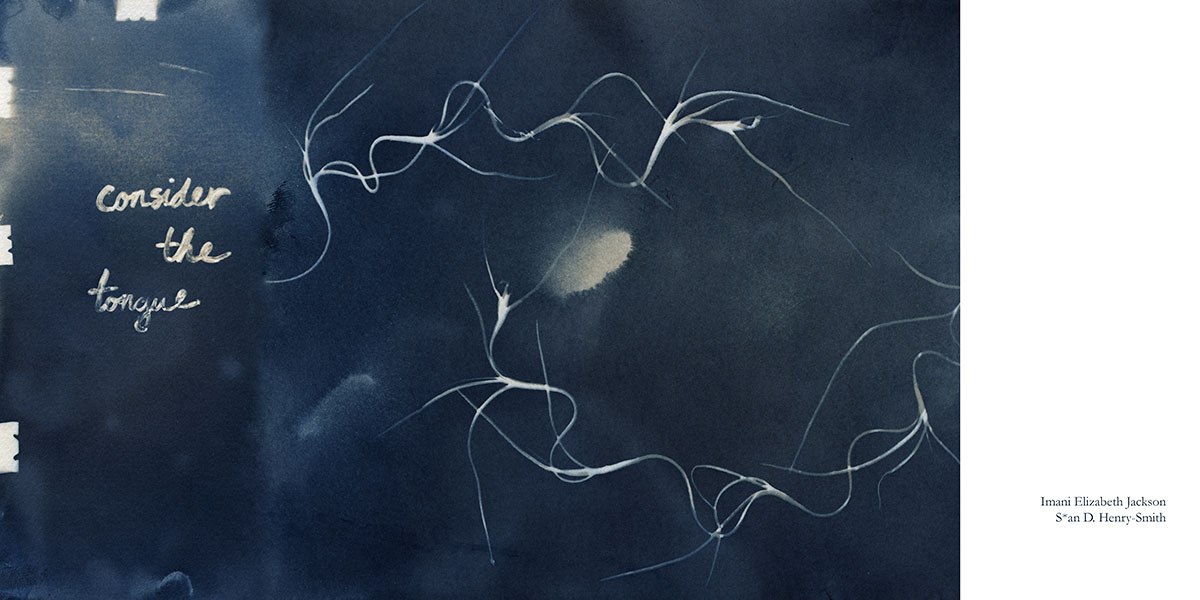 A MouthFeel collaboration co-authored with Imani Elizabeth Jackson, with photographs taken by Danny Sadiel Peña. See a preview as published on Triple Canopy here. Photo and audio documentation from our dinner and performance at Bar Laika can be found here.


Flotsam Suite: a strange &
precarious life,
or how we chronicled the little disasters &
i won't leave the dance floor til it's out of my
system


28 pages. September, 2019. Peradam Press
Purchase
here,
access PDF
here
, audiobook forthcoming
In S*an's words,
Flotsam Suite:
embraces the sadder and sometimes dramatic parts of life as an auto-fiction, a necessary tantrum, a playful dark-inside joke, and is "a constant return to music and letting myself be 17 again for the first time." This collection of poems and color images is embraced by S*an's extended practice of performance, poetry, and photography defining and experimenting within Black Secrecy and Black Noise, a method they've named, distorting and protecting an open secret, and the unquantifiables which radiate from the medium(s).
Flotsam Suite emerges from S*an's meditations on the church, the club, emo, math rock, and noise shows, collapsing sermons and raves to see how they're all similar — the illegible but articulated space for community. S*an emulates these sacred spaces to create in their own work a "safe space for us to scream, to be very quiet".
Flotsam Suite:
is a collection of eight poems, a photo, and photogram lovingly printed by Jessica Peterson of
The Southern Letterpress
at
Antenna's
Paper Machine in New Orleans, Louisiana.Limited first edition of 150 copies, 5 x 7 inches, 28 pages, hand-sewn. Digital print with 2 color images.
Body Text




30 pages. May, 2016. NDR

Sold out, info

here

Embossed cover, full-color foldout pages, with a postcard and original photogram by Sean D. Henry-Smith—this book, selected by Lucas de Lima as winner of

New Delta Review

's 5th annual chapbook contest, would do well to stand alone as a collection of mystically lyrical and heavily imagistic poems, but is made into a truly unique object by its meticulous design and construction.

Of poet and artist Sean D. Henry-Smith's stunning debut of glittering, bodily poetry, Douglas Kearney said, "All buckle and burr, piss and breathlessness, Sean D. Henry-Smith's quicksilver chapbook careens through stanzas, anxiously asking '…will the analytics know me by heart or by guerrilla nose…'? Or gaping mouth? Or gaping eyes? Catch this new poet as he shadowboxes in a night sweat of cultural inheritance: Négritude, The New Yorker, grad school, and Amerie. A compelling debut!"



[Press for Body Text]

— Review, Entropy
— Interview, New Delta Review w/ John Rufo
— Two Poems, New Delta Review




As of Late: Sean D. Henry-Smith
16 pages. September, 2017. Oranbeg Press
Available at book fairs, but view here


Selected Publications

*Essays & Reviews

*Poetry


*Photography

*Press

Mask Magazine Cameo